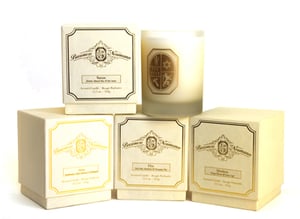 $

154.00
Living in luxury is about spoiling the senses, and Baroness Von Neumann's candles do just that. 
From the simplicity of French soap, to the sophistication of mohogany, BVN candles take you on a journey around the world.  With scents inspired by the most romantic and exotic places--from the speedy streets of Modena to the cozy library at her home in Bel-Air, California--each candle balances the modern with the old-world to provide a fresh, mysterious and regal milieu.
Atlas: Sandalwood, Ceylon Cinnamon & Mahogany
Savon: Sparkly floral Aldehydic with notes of Jasmin, Jonquil, Rose and Lily of the Valley with a woody, musky, ambery background.
Fete: Tangy Navel Orange, hot spicy Seychelles Cinnamon, Zanzibar Clove and cool Norwegian Pine are juxtaposed with inimitable Indonesian Patchouli and exotic Amberwood.
Modena: Stylish men's scent with crispy citrus top over a spicy middle and an herbal, highlighted by Neroli Bigarade and Italian Lemon.
BVN candles are made of natural soy wax blend with a cotton wick and is hand-poured in the USA.